2018 Q1 letter: Why the roller-coaster market is back.
2018 Q1 letter: Why the roller-coaster market is back.
As we noted in our 2017 year-end review, we expect 2018 to be a tough year for the domestic stock market. Rising interest rates and valuation concerns are going to be the major story for investors this year. Stock market valuations remain elevated, with the S&P 500 currently priced at 24 times last year's earnings. This is far higher than the post-war average of 17 times earnings.
The primary justification for high P/E ratios is the extremely low interest rate environment we've experienced in this century. For much of the 80s and 90s, interest rates remained above 5% (see chart below). In contrast, since April 2001, US interest rates have kept well below 5%, apart from 13 months spread between 2006-07.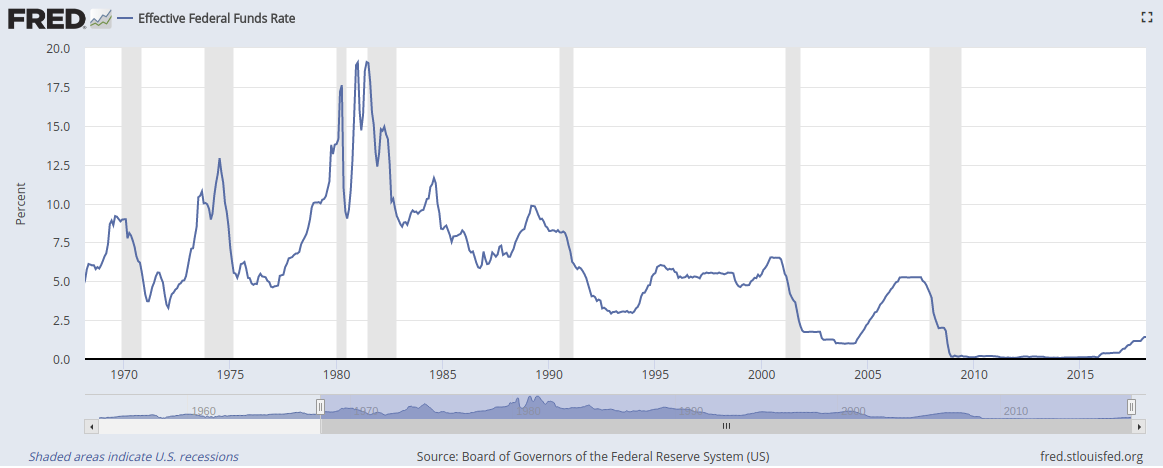 This unusually low interest-rate environment has support stock prices throughout the 21st century. Low interest rates spur higher stock prices for a variety of reasons:
Income oriented investors are driven to the stock market since bonds and bank deposits offer very little return.

Future corporate earnings are valued more highly since the discount rate is lower.

Consumers and companies take advantage of low interest rates to finance projects and purchases cheaply. This spurs sales.

Leverage becomes cheap for speculators, amplifying the amount of money invested the market.
When rates begin to rise, all these supportive factors are reversed, acting as a head-wind for stocks. The Fed has signaled that it intends to continue raising interest rates since unemployment is low and the overall health of the economy remains strong. In our view, rate hikes are the crucial factor driving the recent stock market drops, and we believe this volatility will continue.
There's no denying the market has been more volatile since January. Over the past three years, the S&P 500 has seen 20 days when it was down more than 2%. Seven of those days have occurred in 2018 (and we're only in early April). As of this writing, the S&P 500 is now 10% below the peak reached on January 26th. Technology stocks, which had seemed relatively immune to the downturn have also begun to sell-off. Over the long-term, we continue to believe technology will become a larger part of consumer's lives and our economy. However, just as with every industry, business models can change and seemingly unassailable companies can falter. The current, sky-high valuations for many technology companies leave little room for error.
In our view, conditions remain challenging for the stock market, and investors should adopt or maintain defensive positions. This can be accomplished in multiple ways: holding short-term and floating rate bonds, reducing overall allocations to stocks and shifting into more stable stock-market sectors (such as consumer staples).
As we do on a continuing basis, we have been evaluating client allocations and adjusting investments as warranted. Please let us know if you have questions about your portfolio or holdings.
PS. If there is a friend or relative you believe would benefit from a conversation with us, as always, we would appreciate the introduction.
Regards,
Subir Grewal, CFA, CFP Louis Berger