That Internet in your pocket is disrupting the world.
That Internet in your pocket is disrupting the world.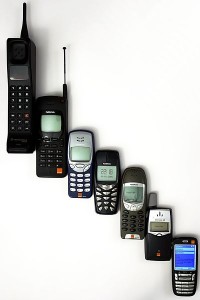 We don't often write about individual companies on our blog since we feel all investments need to be considered in the context of a portfolio and an investor's objectives. We will be making an exception here, since we're gong to discuss the evolution of an industry where the pace of creative destruction has been frantic, and it's futile to write about these trends without mentioning the companies and products that embody them.
The FT published a letter one of us wrote about how open-source development has impacted smartphone evolution. Open-source tools and systems are the foundations for the current generation of mobile devices. The two dominant operating systems for smartphones, Google's Android and Apple's iOS have open-source roots. Most people will recognize that Android is a Linux build, but iOS which is a Darwin variant, and therefore a direct descendant of BSD (early open-source Unix). That Apple does not license iOS is largely irrelevant, an engineer who has worked on Unix systems will find iOS a warm, fuzzy, familiar environment.  As long as Apple and Google don't stray too far from this well-understood environment, future generations of internet engineers will find few barriers to developing for its devices and systems.
It's not just about operating systems though.  Companies that build commodity, widespread platforms, whether software or hardware have come to realize that openness is a virtue, and often a necessity. Their platforms are tool-benches which are only as useful as the tools or applications that external developers create for them. Integrated Development Environments and core development tools for internet-enabled applications tend to be relatively open and community maintained as well. The list is extensive, but includes Linux, Apache, Eclipse, MySQL, Python and other tools that are part of the essential plumbing and growth of the Internet.  Virtually every Internet startup we know of begins  life with a Linux installation running Apache, often a cost-effective virtual machine at Amazon's AWS or countless other providers.
What Apple unleashed with the iPhone wasn't only a device that appealed to consumers and looked beautiful; of more significance to its future trajectory was that the development platform is similar to Mac OS-X, so large numbers of developers could quickly learn to write applications for the device. Where prior generations of phone app developers struggled to understand a carrier and phone-maker's system, with an occasionally tweak to low level network infrastructure like WAP, iPhone developers were on familiar ground, within an environment that looked pretty much like a trimmed down OS-X, and with similar development tools. This is what made the explosion of apps on the iPhone so rapid.  Android has been able to compete only because it's largely Linux and apps for it are written in Java, both of which are even more widely adopted and used amongst Internet developers.
Microsoft is only in the running because someone at the company had the good sense to kill Windows CE and commit to a common platform for desktops and mobile devices, combining the development communities. Perhaps surprisingly for the platform providers, content is king, and that is where they need to differentiate themselves. Traditional media (music, tv, movies) is owned by traditional interests and will generally seek to be platform agnostic and available everywhere. The differentiating factor is new media created by a younger creator and applications created by enthusiastic communities of developers. Nurturing these and adapting to their needs will be the path to success for the platforms. As an aside, if you agree that smartphones are computing devices, since smartphone shipments overtook PC/Laptop shipments last year, it's only a matter of time before the most widely installed operating system on the world's computing devices is no longer windows but some Unix variant.
Meanwhile, within the space of a few years, stalwarts of the early phase of consumer mobile telephony and computing have had near-death experiences or been devoured by firms they would not have considered competitors a few years prior. Motorola, Palm, Ericsson, Qualcomm and now Nokia fell on their swords or came perilously close to doing so.  Blackberry, which seemed unassailable even four years ago is facing an existential crisis.  Revenue streams and margins that seemed robust were eroded with frightening speed.
We wonder of course, about what happens next in this industry.  The first lesson for investors is that the product cycle in mobile technology is immensely quick and margins compress with dizzying speed. In our view, no company in the mobile computing world has a business model that we say with confidence will support strong or even positive margins seven years out.
What we do know is that hardware is quickly becoming less of a differentiating factor.  Most current smartphones have roughly equivalent hardware.  Nokia might have a slightly better camera, Apple may have a better display, and HTC may have the best low-light camera around, but that is not enough to make a difference. Most consumers will not notice the difference. And that means smartphone hardware makers are going to find the next few years tough going.
The platform vendors, Apple, Google, perhaps Amazon and with some luck Microsoft, are better positioned. They should be able to retain income from media purchases on their storefronts (iTunes, Google Play, Amazon Kindle) and can continue to develop additional streams of subscription-like income. The ubiquity of mobile phones with rich data ability should mean strong revenues for mobile network equipment makers and services since infrastructure worldwide will need to go through a few upgrade cycles over the next decade (and Nokia may well find a second life as a business in that space).
We need to look elsewhere though for the next generation of disruptive business models enabled by the Internet in our Pockets. Fast and cheap connectivity paired with ever more capable devices is quickly turning every waking moment into an interaction between online and offline inputs. We now see the  value we believe now shifts to content providers, creators and geo-location based services, this is where we expect to see the next generation of stand-out businesses emerge. GPS mapping software was in some ways the beginning and location-aware advertising is already here.  In many places, Yelp is becoming the go to source for recommendations. Foursquare could arguably have an even more powerful business model if it could manage to convert itself into a effective loyalty program or customer relationship management application for small and large businesses, but first it needs to get past badge fatigue. Uber and its ilk will transform the taxi industry in most large cities. A new generation comes of age every year that is far more comfortable living life on its phone. They will steadily move their wallets to their phones (Google Wallet, Paypal) just as they have their social interaction (Facebook bought itself a couple of lives by purchasing Instagram). Companies that figure out how to curate useful content and tools for smartphones should prosper (Twitter, Evernote, Dropbox, Pandora, Spotify, Flipboard). Yahoo, if it plays its cards right, may be able to capitalize on Flickr and Tumblr to rejuvenate itself.  They may also want to revisit their roots since curated content will be part of the future of mobile computing. The broader message is that content is king, and content created by an enthusiastic community of creators is what's needed to build and maintain an engaged audience.
This meld of the physical and virtual worlds has been a long time coming. Regular readers may remember our post on Facebook, Cypherpunk and Psychohistory which referred to Neal Stephenson's prescient novel Snowcrash. Augmented reality is coming soon, which is why we do not scoff at Google Glass or other wearable computing devices like smart-watches. We will see ever more portable interfaces into the virtual world, and there will be applications for many of them.
It's not just Middle-Eastern dictators who have learned to respect the power of the computer in your pocket, so will less political entities whose lifestyle and business models rely on things staying the same.